Stable supply of LPG to small-scale gas users
Some users may have problems such as;
Not consuming big volume of LPG but supply must be stable.
Not having enough space to install vaporizers.
Operating with natural vaporization of LPG, but vaporization not enough at peak time hours.
Placing too many LPG cylinders to satisfy required consumption.
Kagla ADX provides BEST SOLUTION to these for all gas users!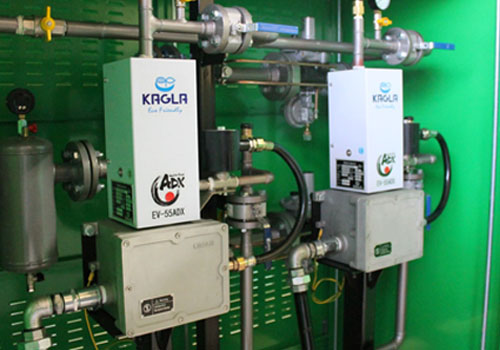 Compact body size of ADX series is also an advantage when installing several units, and also when installing in the cabinets for rain / snow / cold protection.
Its space-saving design and simple electrical wiring make it easy to have several units in small space.
45-55kg/h vaporization performance may not be enough for some applications.
But look at these ADX 55kg/h beautifully installed by our distributor in Hungary!
By having several units of ADX, you can cover required consumption volume.
Features
EXTREMELY SMALL SIZE
Extremely COMPACT DESIGN and LIGHT WEIGHT (23.5kg)!

**1

. Dimension in the picture below
EASY INSTALLATION
No need of water, No need of 3-phase electricity, Wall-mounting design.
EASY MAINTENANCE
Easy access to electrical control box. Digital panel indicator to monitor operating temperature.
QUICK START IN 30 SECONDS
Advanced machine cutting aluminum body + PID temperature controller for quick start (control temperature 63 degrees).
CE certified SAFETY FEATURE
FLAMEPROOF type Explosion-Proof structure certified by CE.
Simple Electrical Structure
Dry-Electric type ADX vaporizer doesn't use water.
Its advanced machine cutting aluminum body itself is the heat exchanger to vaporize LPG liquid directly.
Once you turn on, ADX will be ready for LPG vaporization in 30 seconds only.
ADX only require single-phase 220V electricity and thus Electrical construction is easier.
Efficient heat control by compact PID temperature controller


Combination of high-precision PID controller** and machine cutting aluminum body realized high thermal efficiency in compact body size.
Temperature remains 63 degrees for stable vaporization.
**PID controller : Proportional-Integral-Differential Controller
Applications
Compact size to fit any places.
Single-phase power system makes installation simple.
Wall mounting space saving design.
Suitable for those where the installation space is limited
Small industry
Commercial (Shopping mall, restaurant, hotel, hospital and etc)
Residences (boiler)
Dimension & Flow Sheet
**1-1. Dimension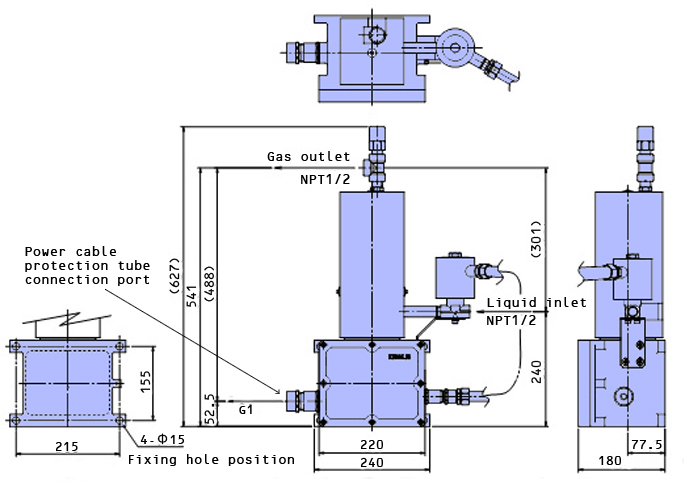 **1-2. Flow Sheet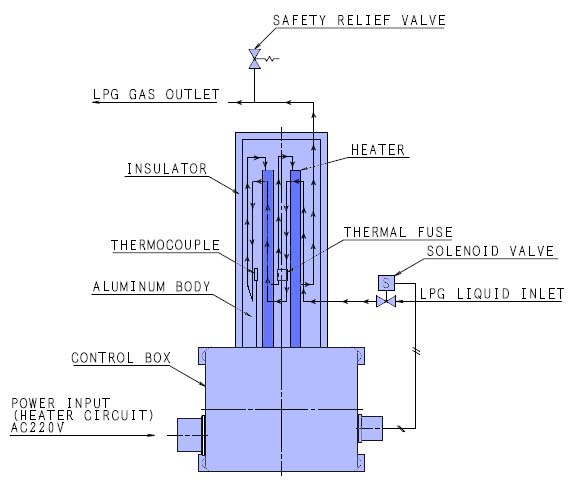 Piping construction image
Sample piping construction image of ADX.

Product Link-1: Space saving product Kagla PUREFLOW – Ball valve with built-in Strainer (*1)
Product Link-2: Medium pressure regulator Kagla KR series
Sample piping construction image of EV-100ADX / EV-55ADX / Kagla Flow Control Valves.

Product Link-1: ADX series 100kg/h model EV-100ADX (*3)
Product Link-2: Flow Control Valve Kagla Paraflow / FL Valve series
Sample installation of ADX vaporizers
Specification
MODEL
EV-45ADX
EV-55ADX
Vaporization Capacity
45kg/h / 55kg/h
Gas
LPG (liquefied petroleum gas)
Heat Source
Type
Electricity
Explosion-Proof Heater
4.9 kW
6.0 kW
Power source
Heater Circuit : Single-Phase AC220V (-0% ~ +10%)
Amperage rating
22.3 A
27.3 A
Approximate Control Temperature
63 ℃
Thermal fuse setting
130 ℃
Safety Relief Valve
Setting Pressure
250psi(1.72MPa )
Connection Bore
Liquid Inlet
NPT 1/2
Gas Outlet
NPT 1/2
Dimensions
W 240 x D 180 x H 627 (mm) **Refer dimension drawing
Approximate Weight
23.5 kg
Explosion-Proof Marking
Ex db Ⅱ B T2 Gb
Product Standard No.
Q31/0115000515C005
Standard Accessories
Installation, Operation and Maintenance Manual
Mounting bolt (M12 x 40L with Plain washer, Spring washer) 4pcs
<REMARKS>
First stage regulator must be installed right after the gas outlet of vaporizer. (If there is distance, re-condensation may occur)
First stage regulator outlet setting pressure must be below 0.15Mpa or 22psig.
Preferable model of regulator : Fisher 627
Install vaporizer where direct sunlight can be avoided and enough ventilation.
You can scroll
Contact us
Product inquiry
For inquiries about products and services, please use the inquiry form.