Features
EXTREMELY SMALL SIZE
Extremely SMALL DESIGN and LIGHT WEIGHT (23.5kg)!

**1

. Dimension in the picture below
CE certified SAFETY FEATURE
FLAMEPROOF type Explosion Proof structure.
EASY MAINTENANCE
Digital Indicator in the Control Box for maintenance and function check.
Applications
Compact size to fit any places.
Single-phase power system makes installation simple.
Wall mounting space saving design.
Suitable for those where the installation space is limited
Small industry
Commercial (Shopping mall, restaurant, hotel, hospital and etc)
Residences (boiler)
Dimension & Flow Sheet
**1-1. Dimension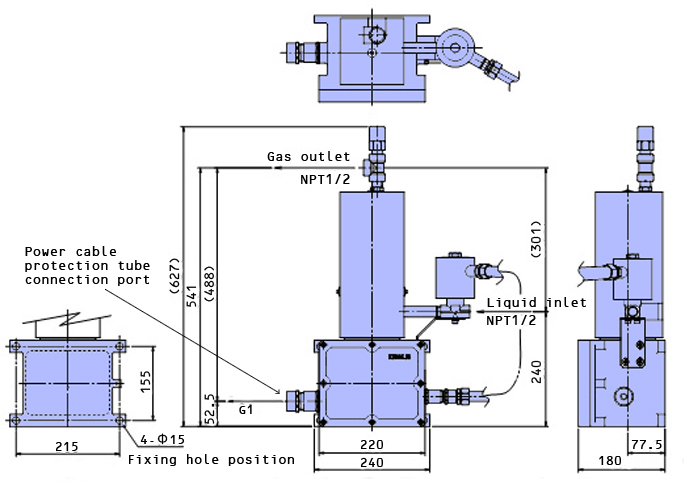 **1-2. Flow Sheet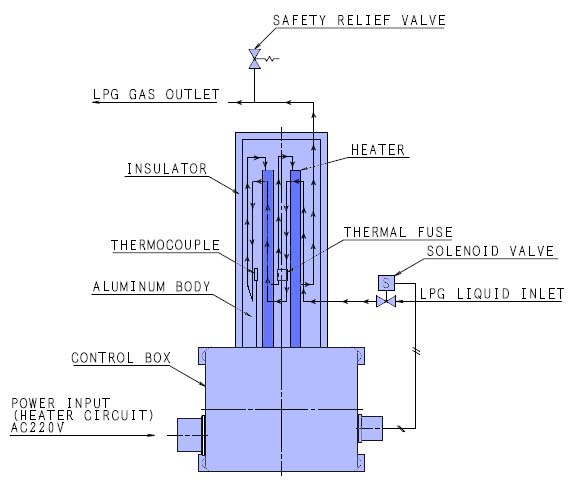 Piping construction image
Sample piping construction image of ADX.

Specification
MODEL
EV-45ADX
EV-55ADX
Vaporization Capacity
45kg/h / 55kg/h
Gas
LPG (liquefied petroleum gas)
Heat Source
Type
Electricity
Explosion-Proof Heater
4.9 kW
6.0 kW
Power source
Heater Circuit : Single-Phase AC220V (-0% ~ +10%)
Amperage rating
22.3 A
27.3 A
Approximate Control Temperature
63 ℃
Thermal fuse setting
130 ℃
Safety Relief Valve
Setting Pressure
250psi(1.72MPa )
Connection Bore
Liquid Inlet
NPT 1/2
Gas Outlet
NPT 1/2
Dimensions
W 240 x D 180 x H 605 (mm) **Refer dimension drawing
Approximate Weight
23.5 kg
Explosion-Proof Cert No.
GYB18.1066X (Ex dⅡB T2 Gb)
Product Standard No.
Q31/0115000515C005
Standard Accessories
Installation, Operation and Maintenance Manual
Mounting bolt (M12 x 40L with Plain washer, Spring washer) 4pcs
<REMARKS>
First stage regulator must be installed right after the gas outlet of vaporizer. (If there is distance, re-condensation may occur)
First stage regulator outlet setting pressure must be below 0.15Mpa or 22psig.
Preferable model of regulator : Fisher 627
Install vaporizer where direct sunlight can be avoided and enough ventilation.
You can scroll
Contact us
Product inquiry
For inquiries about products and services, please use the inquiry form.