Features
No Running Cost
Air-heated type vaporizer expedites vaporization by heat exchange with ambient air temperature.
This unit doesn't require any operational cost after the installation.
Low Maintenance Cost
Since there are few moving parts, there are very few parts that need to be replaced periodically.
Easy installation and Eco Friendly
No electrical wiring and construction is required because it doesn't use electricity.
** Ambient Air-Heated vaporizer is designed to be used for 100% Propane gas.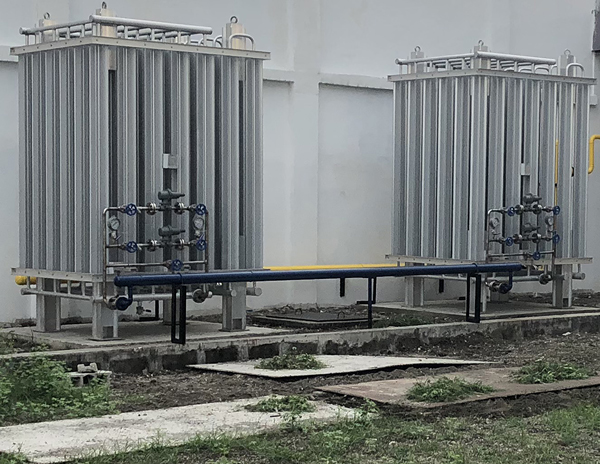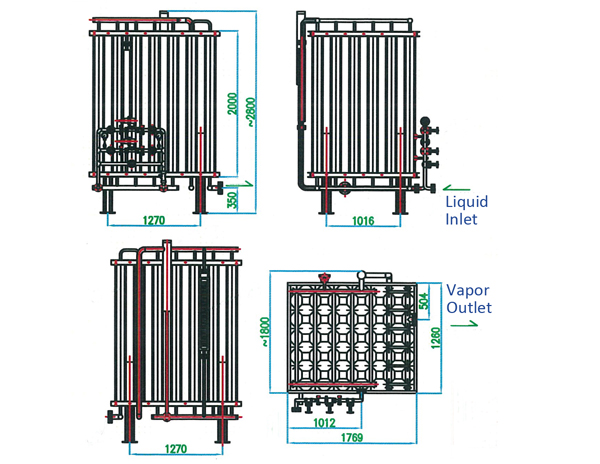 Specification
MODEL
VALPG-150-16 (Ambient Air Heated Vaporizer)
Capacity
150kg/h
Gas
Propane 100%
Heat Source
Air heat
Weight
Non operation: 450kg/Operation: 700kg
Hydraulic test pressure
Above 2.66 Mpa
Pneumatic test pressure
Above 1.58 MPa
Safety valve design pressure
1.58 MPa
Major materials
Aluminum Alloys 6063 / Stainless Steel 304
External Dimension
Width
1950 mm
Depth
1800 mm
Height
2800 mm
Connection bore
Liquid inlet
PL25 (B) – 1.6MPa HG/T20592-2009
Gas outlet
PL25 (B) – 1.6MPa HG/T20592-2009
Accessories
Anchor bolt M20x200L (4) / Instruction Manual
You can scroll
Contact us
Product inquiry
For inquiries about products and services, please use the inquiry form.