Features
DESIGNED FOR AMMONIA
Designed exclusively for Ammonia with corrosion resistant material on all gas route
EXTREMELY SMALL SIZE
Single Phase power supply. Extremely SMALL DESIGN and EASY INSTALLATION!


**1

. Dimension in the picture below
CE certified
SAFETY FEATURE
FLAMEPROOF type Explosion Proof structure.
EASY MAINTENANCE
ELECTRIC (DRY) type vaporizer. Minimum maintenance required
Dimension & Flow Sheet
**1-1. Dimension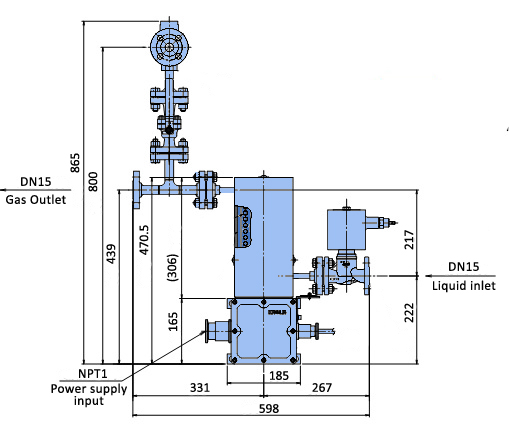 **1-2. Structure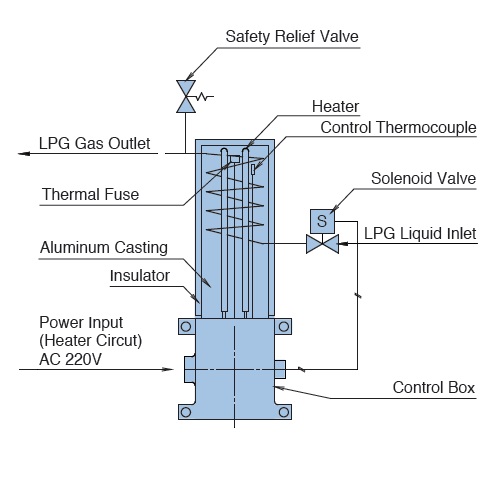 Specification
MODEL
EVA-10DX
Vaporization Capacity
kg/hr
10
Gas
NH3 (Liquefied Ammonia)
Heat Source
Type
Electric
Electric Heater
4.9kW
Power source
Electric Heater Circuit : Single Phase AC220V
Amparage Rating
22.3A
Control Temperature
70℃
Fuse Set Temperature
130℃
Safety Relief Valve Setting Pressure
psig
350
MPa
2.42
Liquid inlet bore
DN15-PN40 I
Gas outlet bore
DN15-PN40 I
Body Dimension(mm)
Width
185
Depth
175
Height
471
Weight
kg
25
Explosion-Proof Marking
Ex db II B T2 Gb
Approval
CE approval
You can scroll
<REMARKS>
First stage regulator must be installed right after the gas outlet of vaporizer. (If there is distance, re-condensation may occur)
First stage regulator outlet setting pressure must be below 0.15MPa or 22psig.
Install vaporizer where direct sunlight can be avoided and enough ventilation.
Sample installation image

Product Link-1: Medium pressure Ammonia regulator Kagla KR-A series
Product Link-2: Liquid changeover for Ammonia Kagla LR-A series
Product Link-3: Electric water bath Ammonia vaporizer Kagla EVA-AX5 series
Contact us
Product inquiry
For inquiries about products and services, please use the inquiry form.