Features
LR unit is a complete set of Liquid Changeover with bypass line pre-installed.
LR / Pureflow (Ball valve with built-in strainer) / piping.
Designed in Compact size for easy installation.
COMPACT SIZE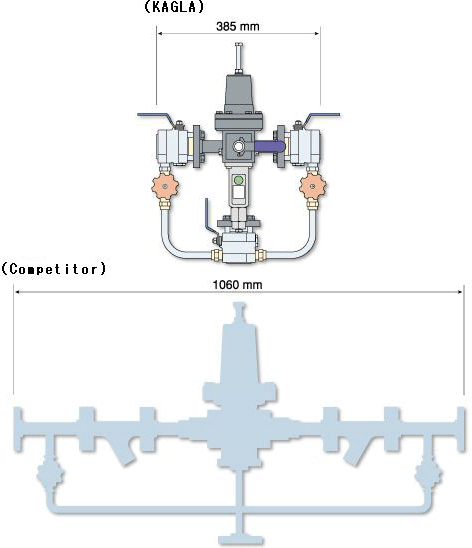 EASY MAINTENANCE STRUCTURE
Maintenance could be done without stopping the supply of LP gas.
OPTIONAL SCALABILITY
Remote Control of Change signal can be carried out using an explosion-proof lead switch and LR panel.
DOUBLE INDICATORS
Simple structure allows disassembly and assembly to be performed easily at the site.
Specification
MODEL
LRU-SSF-Ⅰ Features/ LRU-SSF-Ⅱ
Fluid
LPG (Liquefied Petroleum Gas)
Capacity (kg/h)
Max. 300 (100% for propane)
Max. 150 (30% or less for propane)
Changeover Pressure (MPa)
LR-SF-Ⅰ: 0.05 ∼ 0.22
LR-SF-Ⅱ: 0.15 ∼ 0.34
Changeover Pressure Operating Accuracy (MPa)
±0.01
Required Inlet Pressure
(Changeover pressure +ΔP) ∼ 1.56 MPa
Capacity (kg/h)
100
150
200
250
300
ΔP
Type Ⅰ
0.03
0.07
0.11
0.14
0.18
(MPa)
Type Ⅱ
0.06
0.08
0.11
0.15
0.18
Inlet Size
JIS20K 20A Flange
Outlet Size
JIS20K 20A Flange
Weight (kg)
13
20
Dimensions (mm)
215 ×425 ×195
385 ×510 ×195
(W×H×D)
LR Panel (Option)
Dimensions (mm)
90 ×170 ×60
(W×H×D)
Voltage
AC100V
Alarm Terminal
100V 5A
(Contact material: silver contact plated with gold)
You can scroll
Attenttion
Explosion-proof Signal Transmitter Switch (Optional)
With Signal Transmitter Switch, the actuation of LR could be verified under remote monitor through a telephone line
Control circuit : 220V
LPG consumption should be lower than the LR standard capacity indicated above
If the LR inlet pressure requirement could not be adapted, it might be necessary to change the LPG composition
Sample installation image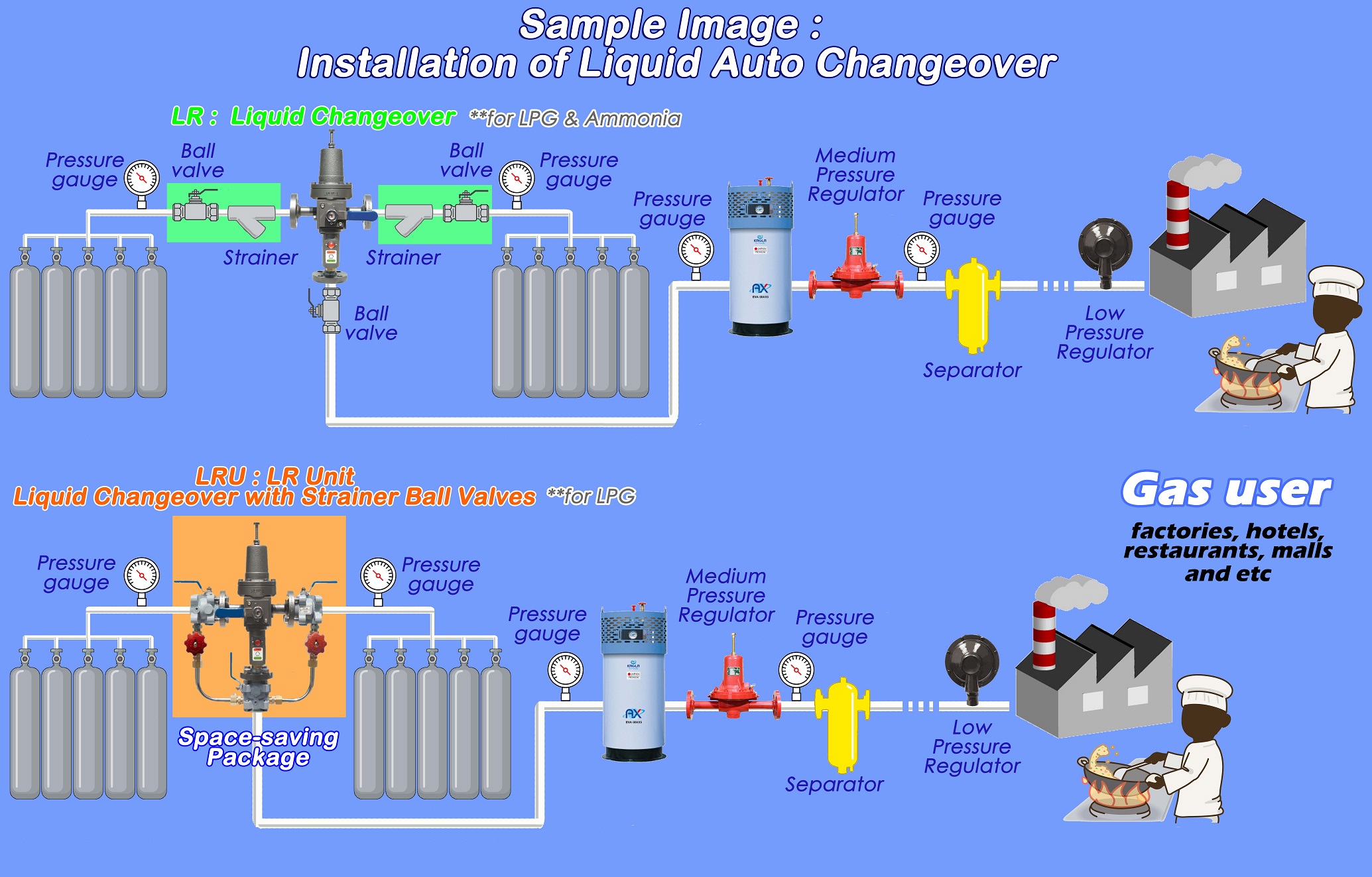 Product Link-1: Kagla LR – Changeover body
Product Link-2: Medium pressure regulator Kagla KR series
Product Link-3: Electric water bath vaporizer Kagla AX5 series
Product Link-4: Electric water bath vaporizer Kagla CX series
Product Link-5: Dry-Electric vaporizer Kagla ADX series
Contact us
Product inquiry
For inquiries about products and services, please use the inquiry form.